Furnished Homes
Furnished homes are a big part of our business. Many of our clients get us back regularly to clean their carpets, and it's great to see them year after year!
Generally we move small items as we go, and sometimes larger furniture items such as couches if they're reasonably light. Some items of furniture with either dark timber stain or steel buttons on the legs (such as antique furniture) have the potential to stain if placed back on damp carpet. Our advice to clients is to either leave the furniture off the carpet until dry (if that's possible), or alternatively to place plastic under the feet of the furniture to avoid contact with the carpet (we can supply small plastic squares for this).
Usually we'll give the client the option to vacuum before we arrive, or we can do it as part of our process. If pets are present in the home, a good thorough vacuum will be essential, and we have a powered brush vacuum that's great at removing hair.
Safety is an issue for both us and the homeowner during cleaning. Our hoses can get quite hot, and if we're performing stain treatment the area being treated could temporarily pose a danger to small hands, so we ask that children (and pets) be at a safe distance from the areas being cleaned until it's all completed. There is also a risk of slipping on tiled or vinyl floors while the carpets are still damp.
When the work is completed, the carpet will be damp, but not soaking wet. If it needs to be walked on that should be fine, provided the feet/shoes are clean. Carpets usually dry more quickly with exposure to a combination of airflow and warmer temperature. In winter carpets will take a bit longer to dry, so any help you can give it (a heat pump is great for assisting drying) will be a bonus. During summer carpets can dry surprisingly quickly!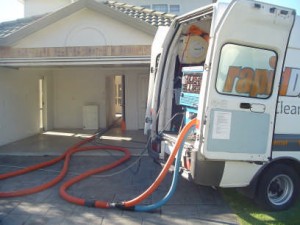 Stain Treatment
Normally you could expect most marks and spots to come out or at least improve after normal cleaning. However, some marks are actually classed as stains – they have changed the colour of the carpet and need to be dealt with chemically to reduce or remove them.
DON'T mess around with stains!
Anything you do to a stain has the potential to either set the stain or to make it very difficult to remove. We strongly suggest using a very weak soultion of detergent (3 or 4 drops of dishwashing liquid in a 500ml trigger sprayer bottle of water) to spray the spill, and recover the solution by gently placing a towel over the top and pressing down to soak it back up. AVOID scrubbing/rubbing or overwetting a spill. Scrubbing will damage the carpet, fuzzing it up and making the stain even more obvious. Over wetting a spill will cause a browning effect when the colour in the carpet backing 'wicks' up to the surface. We'd also suggest being very careful when using supermarket type 'spray on' cleaners. On a daily basis we see damage caused by overuse of these products – normally fading or colour loss.
What stains can be removed?
We treat a wide variety of carpet stains every day. We have regular success on stains such as Juice stains, Fanta stains, Coke stains, Raspberry stains, Coffee stains, Tea stains, Milk, Red wine stains, Rust stains, Flooding/browning stains, Blood stains, various food stains – and the list goes on.
Success is sometimes a matter of expectation being met – some stainwork we consider successful if we can remove the initial impact of the stain so it doesn't instantly 'grab attention'. Other stains will be able to be removed completely with no trace. The less a stain has been "played around with", the more chance we have of complete removal.
Can the carpet be damaged during stain treatment?
Damage to the carpet during stain treatment is a distinct possibility. Normally any 'damage' will be in the form of colour loss. Some carpets are more succeptible to colour loss than others, We won't proceed with any stain treatment until you tell us to, and after we've explained the risks.
How much does stain treatment cost?
Carpet stain removal charges can vary according to the time it takes to complete the work. Some stains that can be easily treated along side the normal cleaning process may be at a very minimal cost. At the other end of the scale, large or difficult stains can literally take hours and require repeat visits. We can advise you over the phone what to expect in terms of price, based on your description of the problem. We CAN'T guarantee that the stain treatment process will be successful. We CAN guarantee you that we're well trained, experienced, and your best chance at successful treatment of the stain.
For animal stains, see our page for cat and dog pee stain issues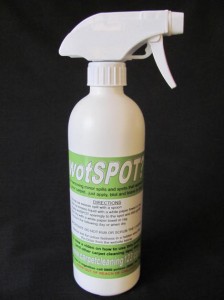 Vacating Tenants
Vacating tenants…looking for a carpet cleaner you can trust?
We specialise in the rental carpet cleaning market. We clean carpets for a lot of property managers and landlords, and some of them are pretty dirty! (the carpets that is – not the property managers and landlords…).
Often our customers are VERY pleasantly surprised at the results we produce after a regular carpet cleaning. If you have any extra "issues" that you feel may affect your bond, then we can also advise you on stain removal or repair options. We're experts in stain removal, trained, experienced and genuinely interested in getting the best results we can for you.
So why use our services? 
Firstly, lets not beat around the bush. Price is an important issue. If you're a vacating tenant you'll be looking to spend as little as possible while ensuring you get a quality job done, and avoid having yout landlord or property manager dig into your bond to have the carpets recleaned. We have VERY competitive pricing for vacating tenants. We're not the cheapest – if we were we couldn't get the results we do – but we are far from the "higher end" prices that many companies charge.
Most of our work is for property managers, property investors and real estate agents. We get referrals from these people every day because we're good at what we do. If we start producing the "half pie" rush jobs that are all to common in the carpet cleaning industry, we'll lose those referrals pretty quickly. Our reputation is our business, and the only way to keep it that way is to keep producing the best work, every time, at the right price.
And… we guarantee our work
"We GUARANTEE we'll deliver a far superior service than any other operator in town. If your bond is withheld because the carpets are found to be dirty, then we'll refund your money!" NO IFS, NO BUTS.
Property Managers
We go above and beyond the "norm" to achieve the best results for our property managers. Some carpets simply require more work than others to reach acceptable results. When we tell you we've done our best, you can assume we've used every 'weapon in the arsenal' that we could to get the best result. Our cleaning process is explained on the website here.
Property Managers are a significant part of our work. We LOVE the referrals and working relationships we have with our property managers. To not perform just isn't an option for us. We're well aware that you require "no nonsense" service people in your business, that do it once, and do it right. We hate hassles as much as you do, and we want to provide a service that allows you to enjoy a hassle free relationship between you and your own clients.
Rapid Dry also take good care when we're working on your clients property. We take steps to ensure that both interior and exterior corners aren't damaged from dragging hoses around them. Because we use van mounted equipment, there's no bulky machines on wheels banging around inside the building either.
Working directly for you:
We make your requirements a priority. If it needs doing within a certain time frame, we'll make sure it's done.
You will receive our best possible pricing, and if required you'll receive the invoice on the same day, so you can process bond returns immediately.
We Guarantee our work. If you're not satisfied we've done the best possible job, you won't pay a cent.
We'll value your input. If you have any suggestions on how we can improve our service to you, we'll use those suggestions to make our service and systems even better.
We'll consult you first if any extra work such as stain removal needs to be carried out.
We supply our property managers with our professionally printed envelope sized flyers – ideal for vacating tenants or for tenants due for a property inspection.
When you recommend us to your tenants:
We're aware that your recommendation comes with a responsibility (to you!). We'll ensure that we're working to YOUR standards and expectations. In other words, if you recommend us, you won't end up with egg on your face…
We'll record the exact nature of the job on the invoice. This means that upon sighting one of our invoices, you'll know exactly which areas were cleaned and how.
We'll stand behind our work 100%. If you have any issues with any work we've undertaken for a tenant of yours, we'll address those issues, even if the tenant has moved on. Our responsibility is still to YOU.
Commercial Carpet Cleaning
Commercial Carpets can often require a totally different style of cleaning to regular residential carpets. They are quite likely to be synthetic fibre (polypropylene) and more often than not they are glued to the floor, making it sometimes difficult to clean successfully using hot water extraction (due to the lack of movement of air through the carpet).
If you have a commercial carpet that just doesn't look good after it's been cleaned (patchy/still dirty/spots reappearing afterwards) then give us a call – we can make your issues a thing of the past! We use both hot water extraction and Encapsulation (semi dry cleaning) methods on commercial carpets – sometimes one method works better than the other, sometimes we need to use both – whatever it needs, we can get the best out of your commercial carpets.
If you have issues such as:
Your current carpet cleaning contractor doesn't seem to be hitting the mark
You're experiencing returning spills and marks IMMEDIATELY AFTER the carpet has been cleaned
You need a cleaned area to be dry in a very short time (an hour or less)
You'd like someone to manage your commercial carpeted areas on an ongoing basis
…then call us to book a consultation, we're absolutely sure we can help!
Pet Urine Treatment
Cat and Dog Pee in your carpet
Cat and Dog urine isn't pleasant at the best of times. Some people don't even realise it's there until they move out. The TV cabinet gets moved, and there it is…
Often, the "stain" associated with the contamination is more colour loss than a real stain. Animal pee tends to release a gas from beneath the carpet, which bleaches out the carpet above over time. Generally, the quicker you can get to the problem, the more chance you have of removing the stain component of the contamination.
As a rule, cat pee tends to have a bit more "zing" than dog pee, and will be easier to trace.
How do we fix dog and cat pee contamination?
Animal urine is a complex issue. Some people prefer to 'throw a bit of deodoriser at it' and hope nobody notices it. This may cut it in cases of small contaminations, but to really stop the urine from causing further damage, the area needs to be flooded with a urine neutralising solution, then flushed continuously to remove the odour emitting contaminants using a water claw and our truck mounted extraction machine (see the pics below). This will ensure that the stain or colour loss won't get any worse, and the smell will be neutralised at the same time. Usually it pays to remove the affected areas of underlay and replace as well.
This is a very labour intensive process, and can get expensive when dealing with large areas of contamination. When it comes to animal urine though, simply deodorising the area to mask the smell can be a waste of time. When dealing with the stain itself, pee stains can be very difficult to remove. If you have an area of carpet (such as a lounge) with multiple deposits spread across the room, it may be unrealistic to expect the stains to all vanish during regular cleaning. One or two small areas of pee may be more able to be treated in a cost effective manner, using stain removal chemicals – as with other stains though, there's no guarantee that treatment will work 100%.